A mini meh about…. Solo: A Star Wars Story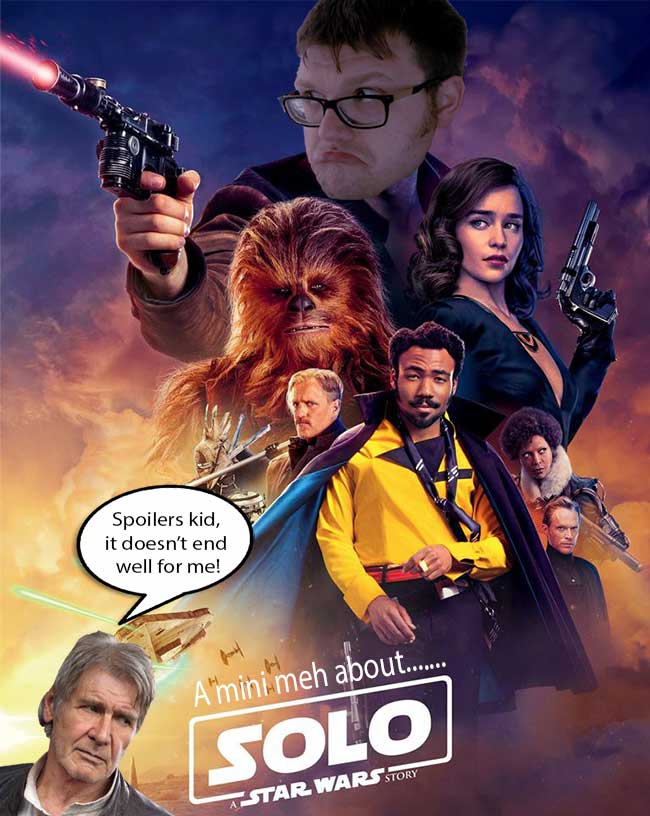 It's been just over a week since Solo: A Star Wars Story opened in the UK at the time of writing. Among the various mutterings about the place, it appears that the film is going to crash out badly at the box office, not even potentially making back the money splashed on its production to begin with.
It's not the best way to start any mini meh is it? Though for recent Star Wars films, it's slowly becoming the norm. Let us remember the Last Jedi for starters; It did well at the box office but was massively divisive as to whether or not people thought it was good to begin with. There even now are various fanboys out there demanding the head of the Star Wars machine Kathleen Kennedy for ruining their childhoods or whatever. It's not come from nowhere as it seems that directors have been shed during various productions at the hands of Kennedy for one reason or another. Such is the case with Solo: A Star Wars Story too.
Having lost the directors behind the Lego Movie, Ron Howard came on at short notice. There was worry over the main actor Alden Ehrenreich wearing Harrison Ford's epic boots as Han Solo. As a final insult to injury, this film has been viewed as a wholly unnecessary cash-in which is the current box office trend of the past week or so has indicated, may back back as a loss for the Disney overlords, a first is quite a while in fact.
So what is Solo: A Star Wars Story? Well, it's a Star Wars film. About the story of Solo. Oh you want more detail, OK then!
Alden Ehrenreich as mentioned earlier, wears the underpants of Han Solo who apparently begins on a nasty little backwater hellhole of a planet where the only way off is to bribe the Empire. At this point in the timeline, it's before the events of "A New Hope", so Luke and Leia Skywalker may still only be the naughty looks that Natalie Portman and Darth Vader gave each other in Star Wars Episode 2: Attack of the 50s B-Movie Joke. Han has the hots for Emilia Clarke from Game of Thrones and events thrust them apart during a daring escape. Han you see……became Solo….. I'll stop with the jokes now and actually do the mini meh.
While actually a part of the Empire during a ground war of god knows what, we meet what basically ends up being the reason why Han got into smuggling etc in the first place; Woody Harrison as Beckett and his band of merry random people who also were pretending to be members of the Empire to steal their equipment. Why? Well the crew had a heist planned to steal fuel and in the aftermath of said heist, pretty much upset Paul Bettany (the guy who plays Vision in the Avengers MCU films) who is the head of a crime syndicate.
To make amends, the fuel had to be then stolen from a mine because it's worth more. But our epic crew need help. Will they bump into Donald Glover as Lando Calrissian along the way, securing his ship and services along with other fun characters? Well, yes, it's been pretty much given away in the trailers.
Overall, the thing which does make Solo more distinctive is that it's set in the Star Wars Universe, but isn't really too focused on the bigger events of the Star Wars Universe, only hinting at them in fact on occasion. Its characters make no secrets about what they are for the most part and are played quite well by all involved. It was a nice way to have some of the backstory of Han Solo, Chewbacca, Lando and of course the Millennium Falcon illustrated as some of the meetings were quite interesting to say the least.
How Han met Chewbacca being the prime example actually as it goes. Really neat, funny scene as it goes. Actually, it should also be said that Han Solo was not the focus of the film, he just happened to be a part of events ongoing, so all other characters had their time to shine when they had the chance to.
The effects were pretty good, a good number of laughs were had, especially thanks to Phoebe Waller-Bridge as L3-37. She's Lando's droid companion and navigator and boy does she have opinions, as well as a rebellious streak (huge emphasis on the Rebel bit there). She often injected some decent humour where needed while not going too far off the deep end. There were a number of surprises too along the way, with one massive "WTF" moment towards the end with Emily Clarke and someone you thought was long gone.
One such surprise which has to be mentioned is the performance of Donald Glover as Lando. He was buttery smooth as an operator / card shark and really got the character's mannerisms down so well. Whenever he was in a scene, it was made better and frankly if they had Donald back again for more Lando in future, it would be worth it.
So Solo didn't do too badly overall did it? The simple fact is that Solo, while a good film, doesn't add too much that you would have missed otherwise were you to miss this at the cinema. A few stupid moments here and there may have also detracted from the film (you know when you see them) and there is that one aforementioned WTF scene which came from nowhere. But it was very much an entertaining enough endeavour to more than warrant a watch.
Whether or not people will, is certainly a matter for discussion given the box office numbers so far.