A mini meh about….. Justice League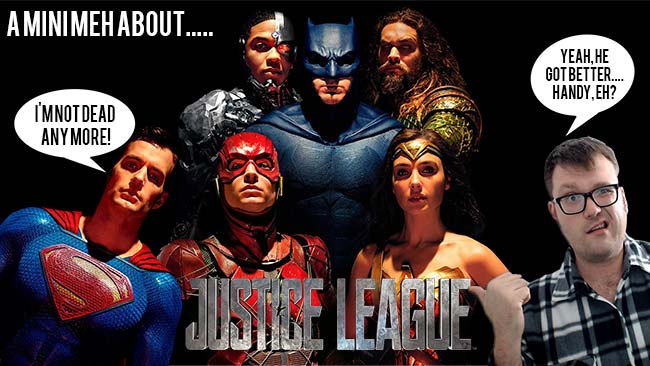 Given the huge amount of praise being heaped on Avengers: Infinity War right now, it's all too easy now to forget there is another player in town. Well, sort of. Let's be honest; at the moment, DC and Warner Bros' collective workforces are sobbing into their pillows every night right now. They tried to kick start their own universe of comic book films at a vastly accelerated pace to cash in on what Marvel had spent a lot of time creating.
They f**ked it up.
They tried to catch up so fast that there are moments where it's all too easy to get lost with what's going on and frankly, the tone change with the DC universe brought about by Zack Snyder put a lot of people off. But is the series beyond redemption?
The last entry of the DC Universe was the rapid introduction of the Justice League, featuring Batman, The Flash, Wonder Woman, Cyborg and Aquaman. It didn't fare as expected at the Box Office, pulling in less than the first Man of Steel film did in 2013. Critics pretty much lambasted it, and the much publicised meh behind the scenes wouldn't help matters. Let's be fair, if it was a case of everyone filling out their contractual obligations to ensure they didn't get sued by walking away, you wouldn't blame them.
But was Justice League all that bad? The bigger questions are; is there hope for the current line of the DC Comics films, or will it better if DC and Warner Bros literally starting again, waiting a few years perhaps as well?
Well, even from the first few minutes where we witness Ben Affleck back in the cowl as "Older / world wery" Batman catching what appears to be a giant insect thingy, and the opening titles with a sad rendition of "Everybody Knows" that things aren't what they used to be. In essence, the world is still not over Superman dying, despite Superman being painted as the enemy at times in previous films. Worse of all, Batman knows sh*t's about to happen and he needs to find people to help him.
The main bad guy bringing everyone together in Justice League is Steppenwolf.
Yeah.
Born to be Wild will be the song you will be humming away to yourself every damn time his name is said in the film, believe me it happened to me! So while not being a band from the 70s, Steppenwolf however is a big CGI baddie who has about as much character depth as my underpants. He wants to blow up Earth anyway, maybe because everyone else took the p*ss out of his name?
However as there's still a hell of a lot to get through on the very tight 2 hour runtime, so sadly to that end, the heroes have pretty fast introductions (Joe Morton never learned from his mistakes in Terminator 2, cough cough), the band gets together, and off they go to get the mother boxes back (The movie's McGuffins that Steppenwolf wants, they are boxes of power or whatever)
But of course, they realise they are missing one member of the band; The guy who used to play guitar who got killed in Batman Vs Superman. Yep, Superman played by Henry Cavill came back to life when they used the Kryptonian Ship that still somehow still never got moved from the middle of Metropolis. Yeah, that thing again.
The final battle takes place in some Russian place, of whatever name and of course Sooby and the Gang save the day while also finding their senses of humour in the process! It's a Christmas miracle! Ok, so there are massive parts of the plot skipped over here, it makes just as much sense watching Justice League as well as just seeing what I write here.
The sad part is Justice League will always be a victim of the films which preceded it. The dark tone and rushing of elements were always going to be the biggest handicap to anything which would happen here. However, I can say this with confidence; Justice League is nowhere near Batman Vs. Superman levels of bad.
Far from it, while it still rushes the story elements through with exposition and the special effects are kind of poorer somehow than previous installments, we do see the characters come together and while having their differences, do start to work off of one another and you do get comfortable with them all. The CGI bad guy however is almost a complete waste of time and could have been replaced with anyone from a Pantomime play. (Oh yes he could). Again, it's a complaint of the CGI overall in the film which lets down a lot of what goes on.
In terms of cast, Ezra Miller does a damn good job as the young Barry Allen / The Flash and provides a lot of the humour which was missing for a lot of the time. Jason Momoa is clearly just enjoying himself as Aquaman, and it was good to see Henry Cavill back as Superman, even if the CGI to hide his mustache he grew for another film was utterly crap! It was all too easy to see that they want to pull back from the gritty world they had created and there are signs it could work. Even Ben Affleck was allowed to make a joke once in a while and pull back from the misery he seemed to always been surrounded by before.
However….. there is one cardinal sin beyond the utterly awful bad guy they had; Jessie Eisenberg as Lex Luthor again, even if only in one end credits scene. Ugh.
So Justice League, I would say is worth a catch at home honestly. In the cold light of rewatching a long time from its cinematic release, I would say there's enough to perhaps hope that the next film will better use the content and its cast. Some good writing, some time taken to flesh out more of the story and who knows? Maybe Marvel would finally have competition.