A mini meh about…. I Feel Pretty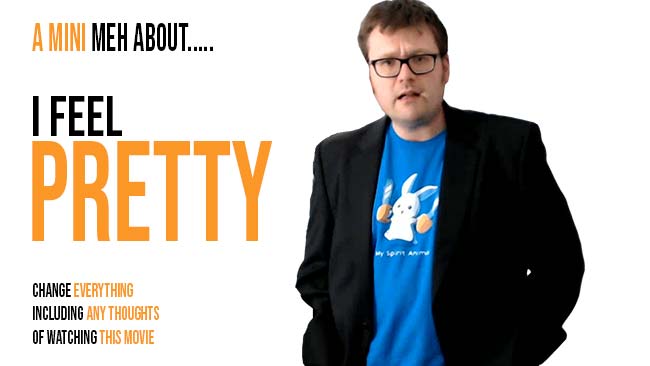 Ladies and Gentlemen, I bid you a warm welcome to this mini meh about "I feel Pretty". Get a drink, take a seat and listen because what unfolds is a tale of woe and treachery followed by what could be described as a SJW rant. See, fun for all the family!
To be clear, there were signs this meh would happen.
The trailer presented to the world about I Feel Pretty showed at best, a third rate level girl-meets-boy thing with vagina jokes which I guess empower women? I had to look up who Amy Schumer was and that didn't yield a lot of information. Well, other than she was basically a US centric comedian who got more money off Netflix when she wasn't as paid as much as other male comedians.
She also did some films including one with John Cena (so this year's "Blockers" was not his first it seems, much to my surprise). None of this is really my cup of tea then because I have testicles and don't worry about "insert gender specific issue here".
So already, I know that not only am I so wrong to watch this, I also know that there will be plenty of counterarguments back simply because I am a frumpy fat dude with delusions of grandeur. But bear with me here, and I will make the case for the horror that unfolded.
Technical problems hindered the viewing on a dark and cold Monday night down at the Odeon Wimbledon but it turned out to be a small blessing. We reach a lovely scene in the park where our leading lady Amy Schumer playing whoever she wants, was opposite her bearded boyfriend who she chatted up at a dry cleaners.
They are muttering sweet somethings to one another while looking at some exercise class. Whatever that was, it was a mystery to begin with as the music was perfectly audible but the dialogue being spoken on screen made everyone sound like they were stuck underwater. So you pretty much could make up the dialogue yourself!
In hindsight, if the viewing of the film then had indeed stopped and we were all sent on our merry way then, it may have been better in terms of a write-up. That's the weirdest part, up until roughly 60 -70% of the total film runtime, I Feel Pretty had been just a medocare girly film which required as much intelligence to get your head around a dot-to-dot puzzle that had only two dots.
But the final third of the film was where all semblance of good will left my body. The film made the mistake of reactivating my 7 brain cells all at the same time and this in turn made me disgusted with the events of how we arrive at the eventual happy ending.
I feel Pretty is supposed to be about body image for women and how we struggle to look perfect in society to be accepted in general. It's supposed to show that actually it's all about how we are as a human being that makes us sexy or not. That it's of course with confidence etc, you can be whatever you want and actually you can be surprised at what can happen.
But how it arrives at this is nothing short of a god damned insult to anyone who is either alive or…. fuck it, not alive. Amy Schumer's chracter, has several head injuries through the film without receving any medical attention. She goes on to act all full of herself as time goes on once she trades in what appears to be a much better paid job in IT to be a secretary at whatever pretend fashion thing it was supposed to be with whatever generic fashion people there.
When she loses her concussion based mental image of herself, she goes out of her way to try and injure herself again in the same way instead of realising that it was how she felt that got her all the things she wanted. How did she still had a job despite just disappearing for days and drinking heavily? The end moment where she was to have the realisation on stage at a launch of cheap make-up, where was the security?
OK, if she was still fine to turn up with her job still intact and she was in fact cleared to go on stage, why did she have to sneak in? Why did she feel the need to smack herself into glass repeatedly when it was clear it wouldn't break?
See, turn on my brain cells against my will and of course I will start pointing all the plot holes and look at the disgusting behaviour only due to having head trauma which never got checked by medical professionals. Though maybe that explains why Amy Schumer makes wonderful speeches about women in society, to then only be thicker than the village idiot 3 seconds afterwards.
Under other comedies about body image and inner beauty ala the long since forgotten but now sorely missed "Shallow Hal" with Jack Black, it wouldn't matter if there were tons of plot points which didn't make sense. The cast and writers brought us along for the ride and in the end, you feel good anyway. None of that happened here. It was unfunny for a huge amount of the film where the few laughs came mostly from other cast members. By the time we struggle to the end of the movie, it looked we were supposed to be clapping just for Amy Schumer. You go girl and all that, she is wonderful and whatever else.
Well no.
This was utter trash that one day hopes to grow up to being a piece of entertainment, and actually is borderline insulting to anyone (any gender whatsoever in fact) with brains larger than a leprechaun's testicle. I wonder if the studios who put money up will actively sue to get some of their investment back because based on what was vomited out on screen, they may actually win such a case.
I feel pretty? More like I feel pretty sh*t. Please for the love of god, don't watch this. Drink paint instead, it would be less toxic.