Twitter and how little people pay attention
The world of social networking is pretty much like experimental pile surgery; it's painful, doesn't always work and you end up crying afterwards. But more and more we have become addicted to it and perhaps for all the wrong reasons. Facebook is now one of the most evil ways to murder your brain.
It's incredibly easy to forget about keeping up relationships and then as long as you send people you used to know occasional videos from Youtube with a cat that yawns while making pottery, then you were cool and then you went to play Farmville for 72 hours, realising you forgot to feed the family for the third day in a row and they lie dead at the kitchen table. I know, it's happened to all of us, easy mistake to make.
People now have thousands of friends as a result, mainly just to writing the most dull of status updates like "Woke up and my kidneys are missing, lol!", "I think that show was good/bad depending on popular opinion" and "OMG, I'm/He's/The Dog's/My left foot's pregnant". It's a shame, given the ways social networking has to ensure that your HR department calls you in when one status update goes too far.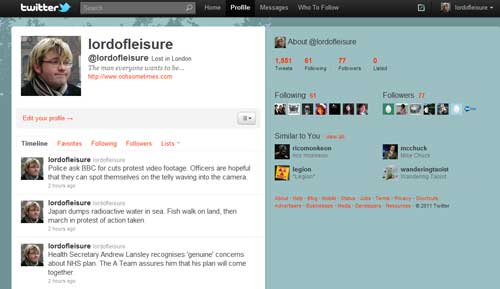 As you may or may not be aware, recently my news sense was sent tingling into overdrive, with a number of examples where the silly mundane little posts containing swear words and crude jokes without context was dropped in favour of informing you good people as to what is going on in the world and providing an opinion based on very little knowledge like all news outlets, but maintaining the fine tradition of Ooh Sometimes by swearing and making crude jokes without context.
With that in mind, I launched a new incentive, where basically the headlines of the BBC, Guardian, Telegraph and the US based Huffington Post were ripped away and then a byline destroying any sense of seriousness was added, more often than not basically missing the point of the original news story.
Such gems include;
Drug gangs 'move on to internet'. UK based gang believed to be gutted that superdrug.com already taken, has gone with WHSpliff name instead.
Showdown for Ivory Coast rivals. Both gangs to face each other in a dance off that is no way similar to West Side Story.
Alcohol retailer Oddbins to go into administration. Drunks everywhere hold a minute's urination against a wall.
But as well as receiving some good comments in regards to how bad they generally are, there are also some examples where clearly the automated systems that some twitter users have set up have responded in not the way it was expected and frankly you start wondering why you bother if this is the type of thing you get back for trying to at least make the world a slightly lighter place given the level of turmoil currently ongoing.
For example here is a re-tweet by @MyLadyKate which seems to have been set-up to ensure that people who read about the upcoming Royal Wedding look at this user's feed;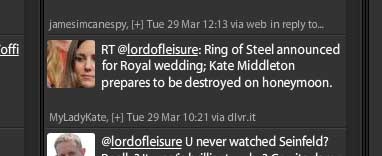 Another user, @CharlestonGriot clearly responded to the Obama text, written today which was; Barack Obama announces 2012 re-election bid via video. Wearing nipple tassels and gimp mask, Obama states "he will love you long time."

Ok then, clearly it makes sense to say Obama is running for re-election in 2012 when the initial writing was about Obama running in 2012.
And finally we have a response to the news text about the Japanese having to dump radioactive water into the sea in order to hold more toxic material;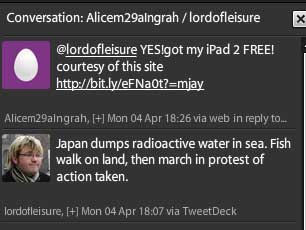 Yes, tweet about radioactive water, get a link to get a free Ipad 2. OMG, that's soooo good! The basic point here is that even when you're limited to 140 characters, you can still get bad responses, even for marketing purposes and it kind of misses the point of the whole thing. Please, can we actually stop these auto responses? Can we return to actual people on the other end posting crap we don't care about?
BRB.