Lonely Lord: New York: Part 3
As promised since the dawn of time or since the pointless message post, the third and not final long-winded part of what New York brings will now illuminate the internet after the joys of the Royal wedding yesterday. After the inspiring / painful look into American television the last time, it's about time we returned to the streets of New York to examine further the people and the environment at which people roam around their daily lives.
But first we return to the weekend's events where it seems that after finishing work, various people like to take to the streets to say buy this dodgy CD or indeed that the world is ending.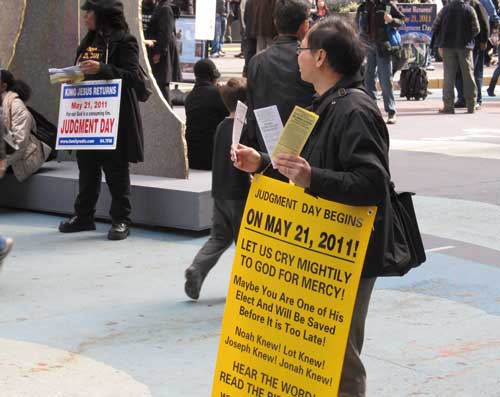 It's not often you get told the exact date the world is going to end, but luckily while in Times Square, that's precisely what happened with various people wearing sandwich boards telling us that come May 21st, the world ends and we go and say hello to the big fella upstairs and ask if we can come in for tea and biscuits. You heard it here first.
One thing that seems to be very good is that the Americans will go out to protest over practically anything too, as the Sunday brought up a protest about Muslims being questioned as the Homeland Security Committee was launching a wide-reaching investigation of American Muslims. Yep, they are terrorists and they need to be crushed or whatever. But across town at the same time people gathered in Times Square to protest the treatment of one section of society, there were another group coming out for the treatment of this section of society. See, it's all equal…..err….
Speaking of terrorists, it had been a shade under 10 years since the attack on the world trade center where various dummies used Microsoft Flight Simulator to crash planes and to be honest you do wonder how the place had transformed since. Of course when you go to the site of the game-changing event, you expect to feel a bit creepy at arriving at the site where over 6000 people met their demise.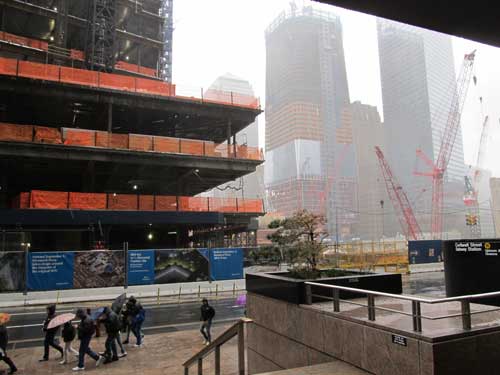 Instead you kind of wonder how this is still a building site 10 years afterwards.
Apparently according to one fella that I was talking to locally while purchasing an umbrella for the monsoon that was taking place outside that day, it was due to people not agreeing on what to put on the site for a good number of years and even now no-one is entirely sure what the end result will be.
In a strange way it kind of fits in with the state of New York where parts are in tip-top condition while other parts are in disrepair. But whatever it ends up as, let's just hope they didn't go with Frankie Boyle's runway idea where future terrorists get annoyed by making a textbook landing instead of flying into buildings.
Now to come away from a site of tragedy, to another site of tragedy. The M&M Store and the other stores of their ilk. Now you would think it's hard to come up with a way of creating products from a bag of chocolate, but bugger me, the Americans found a way.
The M&Ms store basically has managed to turn the brand into something you wear, eat, fill, break or vomit up, something which goes back to the standard fair of food which is available in droves. It was borderline heart-attack inducing just by seeing the massive tubes of M&Ms all over the place and little tubby kids waddling around screaming for their next sugar fix. But in fairness, it's not something you see every day and the massive Elvis M&M deserved a special mention with a lovely picture;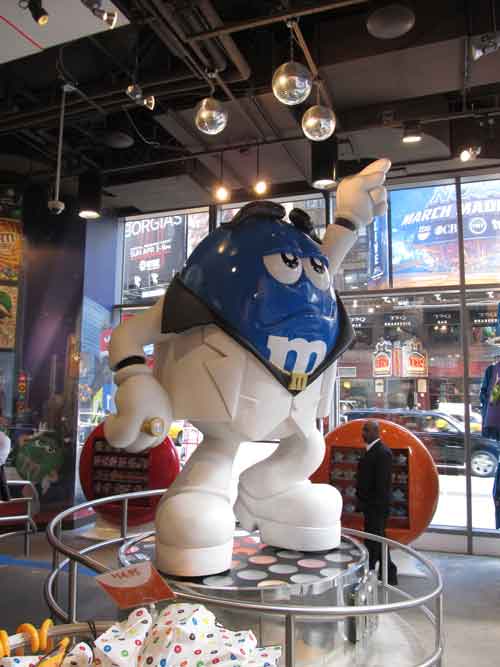 But forget about telling you about it further, as London believe it or not, is now getting the same store in Leicester Square, so now you don't have to go across the pond to see something so curious. One thing which should be mentioned, the chocolate in the US seem to have even less of a taste than what is sold in the UK, but thankfully, double the calories according to the Hershies Bar I consumed then had to sit down for 5 minutes while my digestive tract was failing under the diet I had endured while there.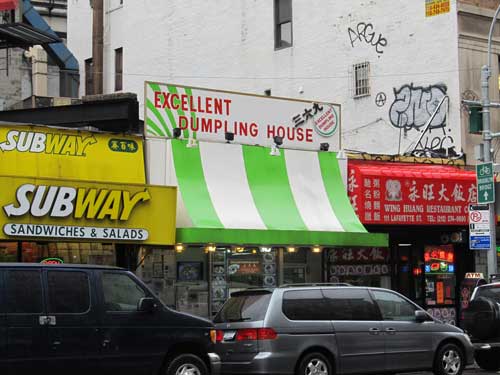 You see, the food if you're after burgers, fries, pizza and anything else that has 10 tonnes of lard in it is readily available all over the place, with a lot of it being part of the national dishes, so unless you've been there before and know what to look for and not to look for, the simple act of eating a variety of food tends to be quite a challenge in itself. But like almost every major city in the world, New York hosts some of the finest restaurants known to man.
They just seem to fall in two catagories;
High and mighty exclusive places where you have to book weeks in advance.
So difficult and perilous to find that even Indiana Jones will die in attempting to find the entrance long before you get told to wait at the bar.
And don't just assume that you could go to Chinatown for Chinese. Basically when you arrive there, it's just another area of town where people live and also like to live in the world's crappiest pound shop.Where other places make it into a tourist area where they try and attract people to the location in order to steal more cash off them, here you just go to Mcdonalds and Subway. Or the "Excellent Dumpling House", of which I'm sure they could be sued for telling lies about the dumplings, unless they came from a toilet bowl.
Little Italy however was somewhat more upmarket, but somehow again lacking anything special other than lots of places selling not burgers. It easily wins on that basis alone, and going into a place just for a simple meal of Spaghetti Bolognese was almost too joyous to the point where you need a cigarette afterwards and ask "Was it good for you too darling?"
Oh and if you are missing the taste of home, here's the one British store.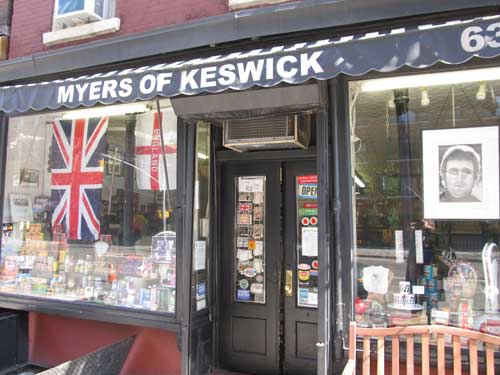 And finally on this epic third part of New York, in a bit which kind of seems out of place on a sort of travel type thing, we turn to a man who personifies everything that is wrong with America.
Donald Trump. A one man sh*t-storm who unfortunately for us all the money to do whatever he wants, including it seems soon to run for President. Recently he has been on television campaigning for the current President, to show everyone his birth certificate because everyone thought he was Kenyan or a Muslim or something to whit, everyone should be shouting "Hey! We don;t take kindly to your types round here!".
This was finally shown recently, at which point Obama hoped that would be the end of it as there are better things to worry about right now which is terrible as it suggests someone in office has a functioning sense of perspective. Trump took credit for the unveiling of the long form certificate while heavily promoting the Apprentice for the 100th time in that hour, but now wants to know what his grades were when attending various educational institutions.
What the hell? Next he'll be asking what food he eats and if Obama eats anything which doesn't come from America, he must be a communist.
Trump, given how much of a prat he is on screen, is a man who somehow has some of the world's highly regarded real estate. To know only a glimpse of how far up his own arse he is, simply go to the Trump Tower, where you can shop in the Trump Store, drink in the Trump Bar, sh*t in the Trump Toilet (the sign actually is for the Trump Toilet), and read every book he's written in the Trump Library which includes greats such as "The Art of the Deal", "Top Trumps", "How to do the Trump", "Trump Me: I'm talking bollocks again" and the ever wonderful children's book, "You're a failure! Why aren't you like me at the age of two years old?"
Perhaps unsurprisingly as well, it seems to be quite indicative of the type of people which go into that building as well, as while propping up the Trump Bar, I got talking to a Lawyer, whose job it was, was to go round the country on the train (no planes, planes are evil) and do something of which no one actually knew what. If anyone knew what he did and was therefore able to do what he did, he would be out of a job and he didn't want that.
For the record, what he does is look up law pages on an exclusive members only web site and then read off from that to clients and earns hundreds of thousands of dollars for doing so.
Yep. I thought so too.
Join us next time for the final instalment of the Lonely Lord's guide to New York where maybe finally tell the tale of the nurse in a bar..