Lonely Lord: New York: Part 2
It's rather strange to remark on the TV in a country you're visiting as to be perfectly frank, you often prefer to read about the wonderful buildings, the food or the amount of sh*t being peddled to you as souvenirs. Let's not even forget the countless opportunities for photos so grating, they cause your gums to bleed.
But given that America exports so much television round the world, much of it very well admired for having better budgets, staff, stars….basically doing things that the BBC can only dream of. OK, America's got Talent, we don't want any more off for the love of various gods and you can keep Piers Morgan. Seriously, no backsies. It pays to take a look at it to see what the public in the US are subjected to on a daily basis.
And it does make for some disturbing viewing.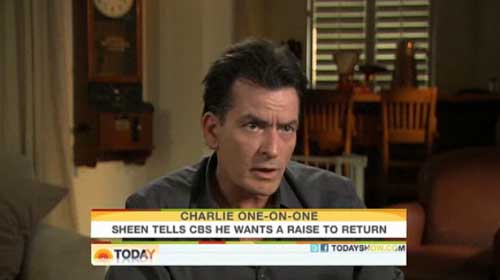 When waking up to the morning television, you have a choice it seems between NBC's the Today Show and ABC's Good Morning America, in which both shows go out of there way to cover stories of the most inane manner, designed to make your brain melt. Enter Charlie Sheen.
Yes, it was going to happen at some point that we remark further on this broken human being. We can't even take him back for a refund, he's beyond the coverage of the warranty. The phrase "Winning, Duh" became a catchphrase overnight, to the point that the next person to say it as a joke, would be strangled with tin foil. It was an obsession, as every network all bent over backwards to say they had the exclusive interview with the actor who basically p*ssed on his doorstep and then went on a bender the likes of which we've not seen since 10 minutes ago.
It's almost as if the networks are purposely dumbing down the news so as to ensure that the masses do not question anything and just go about their daily lives. In many ways you begin to understand why when you talk to a few Americans in London, why they don't know a lot about what goes on in the world, they are failing to be informed by their media outlets and therefore the assumption that they are just dumb has to be adjusted.
This is why Ooh Sometimes exists. To inform the ill-informed, and also to pick holes in things people work very hard on.
At the time of watching, the uprising and violence in Libya was only beginning. Gaddafi was blaming everyone for why his people had enough, including Al-Quebec, drugs in coffee, tassels on strippers' breasts, badgers and Lionel Richie and then went after those naughty people who were getting jolly upset about things. NBC presented the story as:
Petrol Prices hit $3.70 (Libya stuff going on probably has something to do with it…maybe)
Cue a number of videos of normal Americans, who appeared in South Park as yokels screaming "They took our jobs!", at petrol stations getting upset at paying $3.70 a gallon, then the US administration considering tapping the national reserves to lower the prices.
What the what?!?!
Coming up after the break, how best to groom your dog. They are obsessive with pets to the point that you wonder if telling pigs to squeal wasn't a joke, but social commentary, a fact that was born out when walking through Central Park, with men and women carrying tiny dogs dressed in jackets.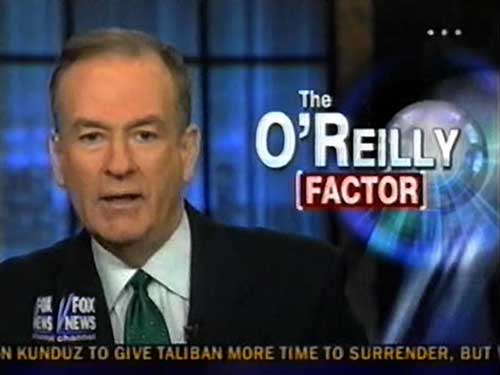 And dare we even start on Fox News? The behemoth that is Rupert Murdoch's legacy to the world, which is ridiculed to the point that you wonder why they even bother switching the lights on, let alone the cameras, with wonderfully over-the-top presenters like Glen Beck, a man who looks like he would be the happy chef in a diner, who is so patriotic to the point of sh*tting out the American national anthem on command, you just want to cut him open just to see if he would bleed red, white and blue.
To be honest, we could be here for two years commenting on Fox News, so let's leave it with the remark that News International's headquarters in New York is not really that impressive. Canary Wharf has a better news ticker and they couldn't even be bother to finish hanging half of the adverts for their news presenters. I await the law suit.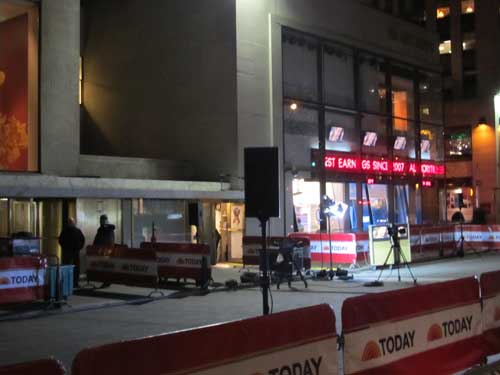 It was interesting to wander around in the early hours of the morning (disrupting sleep patterns so you're still waking up in UK time while 5 hours behind is not a good sign of things to come) in New York, as you barely see anyone about at all, save for a couple of cleaners and various TV crews setting up shots for the day as you can see in the picture above.
The Today Show has a later segment of the show which involves the presenters going out to the excited crowd behind the rails with various posters saying hello to Mom, their dog, or selling their bodies for food, who knows?
But a curious conversation was to be had during the Friday edition of the show, when the cameras went back inside and various onlookers were remarking on Meredith Vieira's $2500 shoes while she was going round saying hello to everyone (you could tell from the fact they were red on the bottoms apparently), you could argue that would not be the time to;
a) ask who the hell anyone is, as the celebrity may not take kindly to that, but you can always woo a 57 year old woman by talking with a British accent, which therefore mitigates any silliness.
b) mention you got shoes for 7 euros which do the same job as $2500 ones.
The Today Show is filmed around Rockafella Plaza, a massive building owned by General Electric or GE, who in turns owns a fair proportion of NBC, who it turns out also is under the news microscope currently for tax "dealings", where they paid no corporation tax and NBC didn't cover the story.
Oh dear.
Moving on from that little detail, 30 Rock is indeed a huge building, one of the most impressive within Manhattan to be fair, and looking at it from the ground in the same place as the 30 Rock title sequence is something that generally makes me giddy;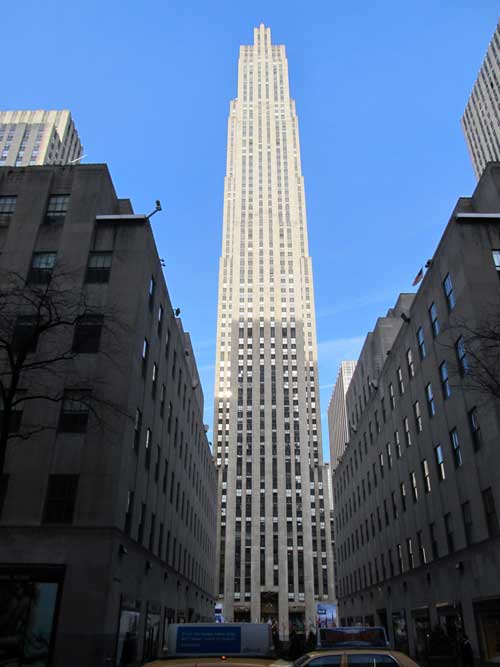 The area around 30 rock has also been heavily modernised, with several shops, selling expensive chocolates to Lego. Yep, there's a Lego store there, and I had to hold back heavily from going in. Me likely Lego basically. As it's a tourist attraction, there is also the fact you can go to the top of the rock and see New York from there, look at some of the pretty pictures on the wall, or go ice skating;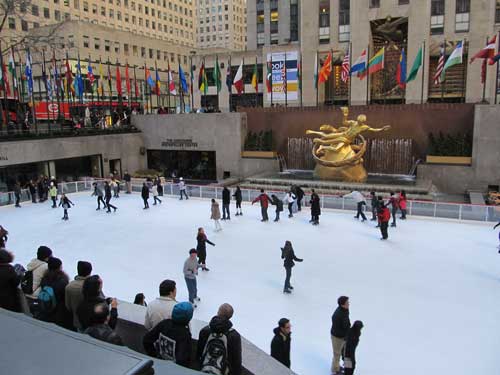 It was an amazing and strange thing to see a ice rink just in the middle of the courtyard, which is also hugely popular too it turns out, whether or not it's the novelty factor, one cannot say, just given that if it's very easy for you to fall down on your arse while not drunk and on solid ground, it's best not to risk the ice rink while sober and having massive blades attached to your feet.
The complex itself was vast, with a art deco 1930s feel and look retained, which is actually impressive given New York's history that most old buildings tend to disappear in place of new ultra-mega-monster shopping malls and really tall bank buildings where bankers sleep during the day and destroy the strip clubs at night. The toilets were nice too.
The main reason for hanging round 30 Rock, aside from pretending to be an extra saying rhubarb over and over again to pretend that you're talking, is the NBC Experience tour, which takes you behind the scenes of what NBC do on a daily basis, see sets from shows like Saturday Night Live, Some Dr. thing who has a working lab on set as well as being the world's strongest millionaire doctor who just turns up and cures patients by touching them….Late Night with Jimmy Fallon (which we'll get onto later when we get onto late night talk shows and their ilk) and the news, of which never one to miss an oppotunity, you can get a photo done behind the desk.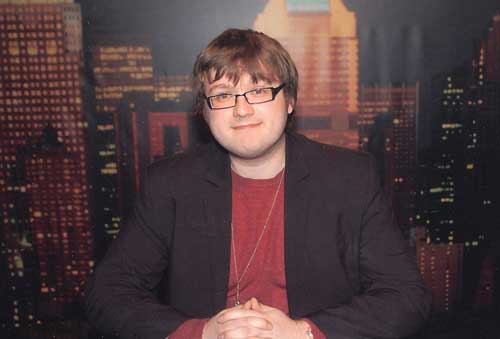 Yes, as you can see, my man boobs have developed, thanks to CC Fabulous Breast, see pack for details.
It was a lot more interesting to see how they did things in comparison to the BBC back in London, where the most we saw were people surfing Facebook for news purposes. After all you also did get to see some behind the scenes on how they did make up etc and talk to the NBC pages, who up until that point, I thought was just a joke from 30 Rock, but in fact are basically the unclean of the industry, ensuring that tours go on and that they do anything asked of them at all (By your command) but they use it as a way of getting up in the world or as experience for other jobs.
One of them commented I look and acted like Michael Moore. Err…was that an insult or a complement?
There was also one other thing too, and for this, we have some video, of which scenes should be classified as unsuitable for people with weak hearts or bladders. This video probably will also answer a question with a certainty not seen since that we knew Wayne Rooney will end up in Chester Zoo throwing his poo at passers-by after Manchester Utd release him back into the world.
Would I be any good on TV? Find out in this newly retooled video now on YouTube!
The answer was no clearly.
Finally, simply by happening to be hanging round for the NBC tour to start in the morning, the opportunity rose out the blue to watch a live recording of "Late Night with Jimmy Fallon" as "Saturday Night Live" bloke Jimmy Fallon became the third host of the NBC comedy-talk type thing. The show serves as a platform for Jimmy to come on and make jokes, talk to some people and then say bye.
It appears that Fridays are the day that you're more likely to get in as a late contestant simply as people have better things to do on a weekend. Go figure. And so we are introduced to the world of late night television. At 4 in the afternoon.
It's all LIES! It's all recorded in the afternoon so people can go home early and sleep! DECEIVERS!
Also the taping occurs pretty quick, which doesn't give too much room for any editing etc, so what I witnessed was pretty much what went out that evening. The basic requirements for a late night talk show in America, is to wear a suit, sit behind a desk and have lots of pens. And a Band as an optional extra. Guests sold separately. The problem was unless you have been watching what has been going on with the show constantly, various references will escape you and here, I was in No Man's land.
Everyone was sat down, a stand-up was doing his best to liven up the crowd, but alas there would have been more laughs if he had pulled down his trousers and had an anal probe. Then Jimmy came along and started off his scripted dialogue to camera. Which also went down like the Hindenburg blimp. Seriously, is this what America wants? It's odd, they have some of the best comedy talent in the world, and yet that is somehow ignored for this show. But the audience still whoops at a second's notice, which makes it all better.
The guests were…err….people I had no idea who they were, Kathy Bates (something from Misery) and some bloke called Chris Pratt (yep, they say Prat with a straight face) and they went on about how they did various things, all designed to make us feel like we know them a lot better, but the sad story award went to Kathy for the fact that someone asked for her autograph and she found it on the floor afterwards.
Jimmy dressed as Charlie Sheen to make an advert peddling his new "Winning, Duh" CDs, which was about as entertaining dangling your genitals in a hippo's mouth when it starts closing.
To be fair, the music played by the band was very good, but the drummer guy, if you ever get to watch the show in the UK and see the band perform, just keep an eye on him, and see if you think he's high on acid or something because his eyes were just rolled back like he was having a seizure. The music by the rapper bloke at the end was also actually good, which was a good note to end on.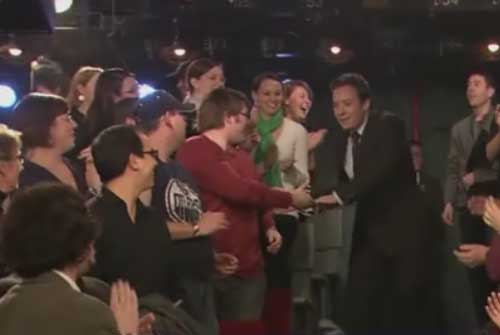 Oh and as you can see, I was on the end credits as he ran up and down the tiny stairs shaking people's hands. I didn't start out at that point, I was pushed further down during the course of the recording as the audience was dropping like flies. They should have a warning; not all of you will survive till the end.
All in all it was a "tick in the box" experience. Glad to have experienced the late night doohickey first hand, but to be honest, I wouldn't be in as much as hurry to repeat it unless it was for this guy;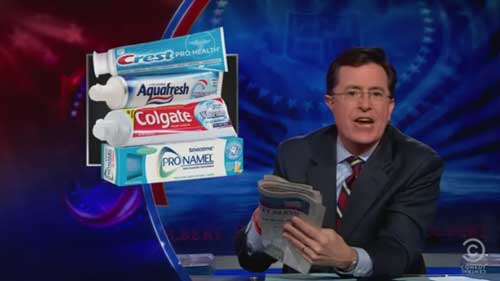 Stephen Colbert, head Colbert on the Colbert Report, is basically just one huge send-up of Fox News, and much of what America is, and the 10'O Clock show in the UK, can only dream of being half as funny as this man is by himself on screen. The same format in reporting what's going on in the world, the set-ups and drawn out over-the-top patriot makes this worth a watch over most political shows today, even more so than the Daily Show with Jon Stewart, which Stephen actually came from to make this standalone show.
The use of over the top graphics, admirably shame what the news channels do on a daily basis, and the guests on actually have something relevant to say, inbetween stints where Colbert basically calls them liberals and terrorists. Genius! I have a new master and his name is Colbert.
Remarkably it's not shown in the UK on any channel, which is a crime and I can only hope that someone buys the rights, at which point, I will get a proper TV to watch it. It really is worth doing that for.
So Part 2 was not so much anything about New York, as mainly about television. We all like TV so that makes it all right. Join us for Part 3, when I talk to a nurse in a bar about Healthcare and dining across the street from your hotel room that you're going to take your cop friend back to afterwards because it's your forth date.