It couldn't be going on too long with all this nonscense about things with lights, bits of script coding, and looking like a reject from the 70's without placing some pictures from my time in Madrid. Yes, inbetween sweating in an office and sweating in a very posh hotel, there were a couple of oppotunites to look around briefly, so here for your dining and dancing pleasure:
Photos, only without the old folk's voice telling about each picture in soul-destroying detail.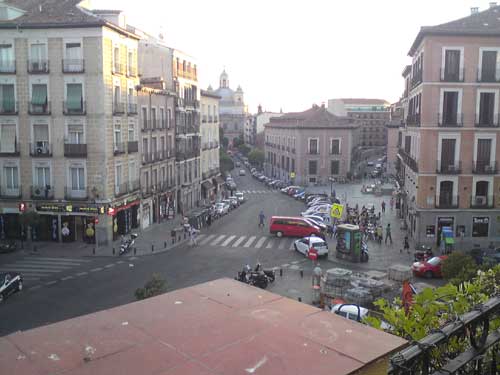 This view was taken from the top of a garden bar on the roof of some pub with the sun slowly drawing in on the second day. The view from the roof of the hotel at night was fantastic and you could see all around, and it was a good place to sniper people working in the government building next door.
For some reason, House got tired of mocking people with illnesses and decided to sell lemonade in Spain. Righto then.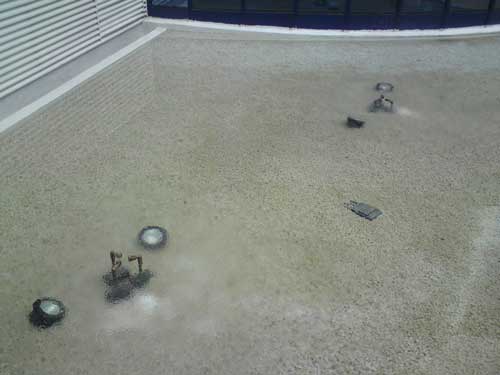 And here we have an excellent example of Spanish design; some water pipes sticking out the ground. It'll look nice when it's finished….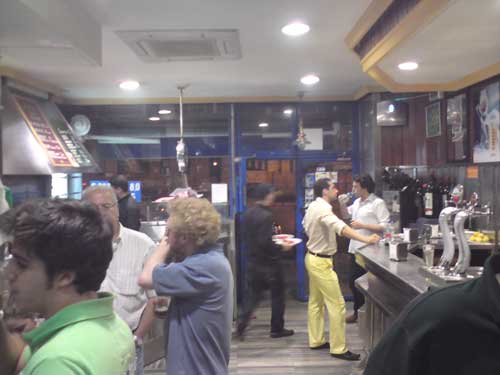 And here we have an example of what one of Madrid's fish bars look like. Though from the outside, it looks like you would catch a disease from looking at the sign.
It was something to stand up, talking over everyone else while stuffing your face full of various bits of seafood. But I will have to say this, the food was so good, I wanted to take it somewhere, get to know it all better, find out what movies it liked….oh dear, I think we're drifting onto the world of food porn.
And what possible visit to the seafood place be complete without a picture of two numptys wondering what the hell to do when a camera's on them?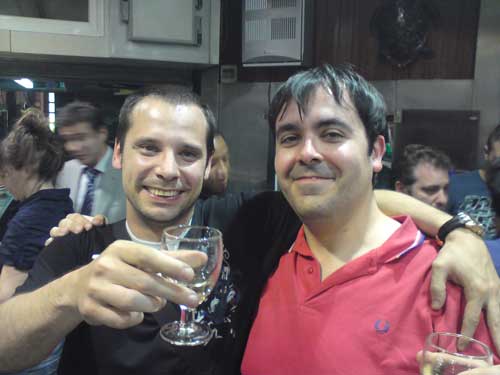 Ahhh……nah, I can't think of anything.
Well that's the thing with the visit away, it was mainly about Business, which detracts from any touristy stuff you could do in the limited time we had, but at the very least, I got the jist of what Madrid is all about.
Life is slower, people have more time for you, and a short lunchtime is an hour. Sometimes, a man has to wonder what it's all about. Fair play to the spanish!
Well I guess I haven't really said everything that happened, so let me quickly wrap things up so I can return back to the black and charred mess that is the Underworld, this trip was also the very first time I had ever flown with BA to anywhere, and stayed in a really posh hotel, drank overpriced water, had Starbucks for breakfast, and spanish food in the evenings, basically it was all good! I want MORE!