Me fui a España. Estaba lleno de gente español.
With the ftp back up and working at long last and finally having plucked up enough energy to lift the leisurely head from it's slumber, it's just about time we remarked on the full on trip that was Spain, which included to some working, some walking and the KKK.
Yes, you read that right. I wrote the KKK. Those naughty people who scare others by dressing up as ghosts…err…That's about as much as I know about them to tell the truth, but before we get old Shaggy from Scooby Doo shouting Zonks and legging it down the corridor with the repeating background, allow me to explain why they were all about at this time while I was over there.
You see, it was all to do with the Spanish customs of Easter, in which they have jolly old buddy Christ looking upset being carried around along with other things in streets up and down the land, and accompanying them are the KKK. Why I haven't fully grasped this, but I'll be damned if I was not meant to say anything as they walked past as I used my manly powers to destroy an ice cream cone. It's a great honour to be one of them as it goes from what the locals told me. They even have action figures….look here if you don't believe me!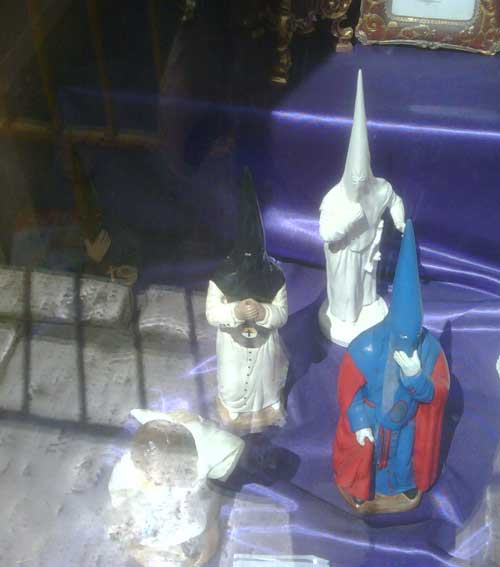 As you can see there are a number of versions, with the new Spiderman version coming to the deep south soon. But surely if we're going to celebrate the fact that Jesus did some magic tricks and was able to poke stuff through his hands afterwards, we need something new and exciting and something which would make us praise the lord even more; Jesus Cake.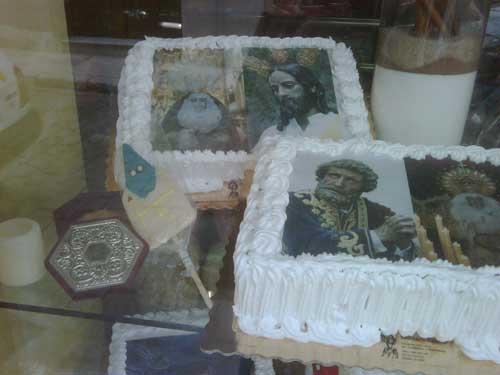 Act now and you get a free KKK lolly. But all in all it was a strange sight to behold and also you gain insights in just how religious the Spanish truly are. Even in the many public houses you went into, there was a picture of our lord Vader, I mean Jesus looking jolly upset, perhaps just to remind everyone the dangers of drinking or something, to be honest I have no idea.
I suppose that it would be an understatement to remark on the wonderful weather and some of the views I got to see away from the hustle and bustle that is the root of all evil. Just a lot of things seemed simple in comparison and not as much to worry about, despite the fact that I was in contact with Work for a bit of the time, various questions coming up from a couple of people and also it was surprising what broke while I was out.
Apparently there is now a program to clone me to ensure 24×7 availability of my services….Mind you, the thought of two of me is enough to induce heart attacks in most people I know. Rest assured, nature would not allow such an abomination to survive.
But in the more remote places I did get the chance at least to wander round, and survey all that I could see, all while getting my face and arms burnt with just a few minutes exposure to the big shiny shiny in the sky;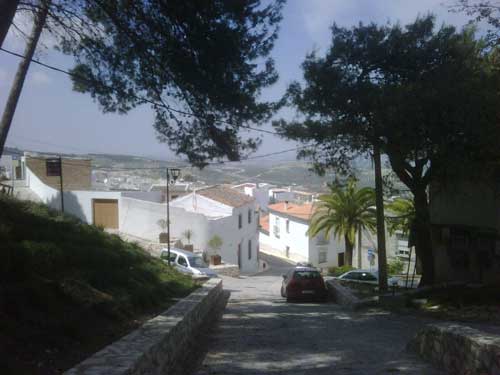 The Landscape was fantastic and some of the olive groves went on for miles and miles. Strangely I feel compelled to talk about the motorways out of the cities, which were all but clear every day of the week, with only Serville amounting to the level of traffic we expect in London, but I suspect it was bad because no-one knew where they were going. Suppose it's what you get when you don't take a map and all you wanted to was drive to Tesco.
The weekend did bring a return to the Costalotofmoney or little Britain as it's better known to regular readers of Ooh Sometimes, and it was quite nice down there too with some Canadians running around with excess energy to hip hop bollocks, it almost made my eyes bleed, but there was something else to note;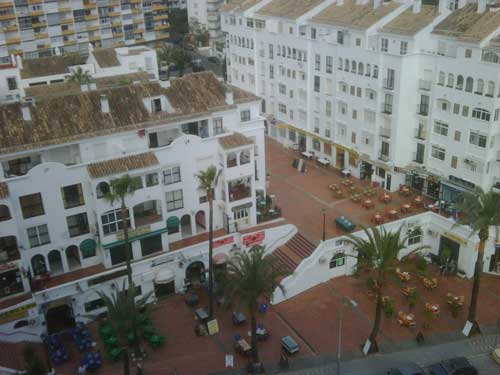 In the picture above, do you see anyone about?
No it's not a "Where's Wally?", it's just a illustration of the fact that there was next to no-one there. At this time of year, you expect to see a huge influx of people out and about all vomiting before 10am after 3 rounds of English breakfast and 10 gallons of vodka.
But it seems that the poor exchange rate of the pound to the Euro and other economic circumstances have indeed taken it's toll on the tourist industry with rarely a soul in sight. Most of the places had closed their doors, with the rest operating minimal opening hours and only then a handful remained open all day thanks to the single stag doo that had wandered through all demanding cowboy hats and some haggis.
There were other pictures taken in between other work but alas they shall remain buried along with the Blue Peter Time Capsule filled with 100% pure cocaine and a limited edition copy of playboy from 1978. Though there was some time spent around a church at the top of hill to see the landscape, and hanging around like the locals, though of course, My Spanish only extends to the noise: ehhhhhhhhhhhhhhhh, which must be made before we speak. Go and practise, then we shall see if you've made the the effort.
I suppose the real shock was when I came back to Broken Britain at 3am on the Wednesday, to then climb aboard the National express to Victoria and then find a bus which came close to home. The bus ride of course, made it perfectly clear what I had come back to.
First of there were 17 chavs all out of their tiny minds on cola who proceeded to make the rest of us miserable by arguing with the bus driver about why he couldn't take them home to Watford, then after they got off, a huge black woman got on sobbing away about god knows what and proceeded to ask people for change, and finally to add to the mix, a group of very very load American women got on and proceeded to talk about things which only should get talked about on Adult channels.
And early in the morning, despite the fact I was asleep and had the day off, work rang.
Welcome back indeed.