2008 Review of the Year: November (Now with pictures!)
Instead of writing about the delights of Spain, and furnishing you all with limited numbers of pictures from the time, it appears that the FTP server where I can upload said images is down so with that in mind and in keeping with wanting to get back into the swing of things, here's the review of November 2008.
I ate, slept, worked and everything was status quo.
Thus ends the post remarking on November 2008. Thanks for coming, leave tips at the door.
errr….
What do you mean I can't just write that? Ok then, here goes…
I went to a gaming expo in the East End of London, playing a lot of new shiny games before they were released to the general public, met up with some friends from the Gamers With Jobs website, and also talked a load of rubbish with one of Eurogamer's Journalists about breaking into a bank.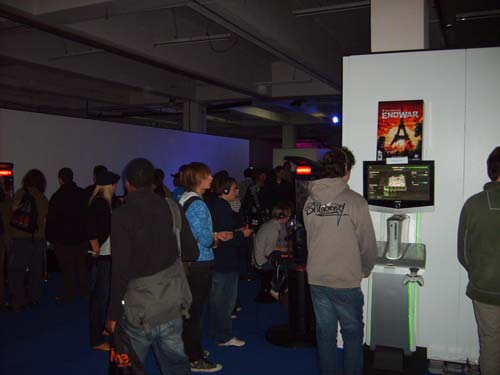 No wait, I meant the industry. I had pictures from that event which I never uploaded to the blog which are now making their debut for the first time here in this post and remarked about some of the great games on show at the time such as Fallout 3, the PC version of Braid, which has only just made it to PC recently, and the greatest button mashing contest of all time: Street Fighter 4, which even now, I'm still waiting to show up on the PC like those b*****ds at Capcom promised. COME ON, GET ON WITH IT!
The place was wall to wall with Plasma screens, xbox 360s and PS3s, enough to make your eyes bleed with envy and also using more electric than Zimbabwe, then again there was also more food than there is in Zimbabwe at the counter….eep.
All the forthcoming games were being previewed, and I must admit, getting my hands on Fallout 3 before the rest of the UK at the time was a good little feeling, even if the fecking game controllers annoy me because I can't steer with them.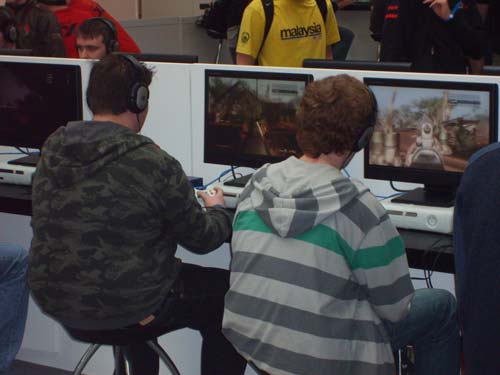 Upstairs, there was the food place, and a huge area dedicated to Games recuritment. If you knew how to do complicated things, then that was the place for you to go. Shame the most creative thing I'd done recently was sprayed over all the toilet walls. You'd think, I can push buttons, I can do what they do.
But when you say to them, you're a jack of all trades server support person, you were looked on as though you'd handed them a severed hand in a paper bag. I cried for litterally seconds before playing Fable 2. I would have had a go in the FarCry 2 tournament that was going on in the same area, but alas, my poor performance with a joypad told me "Just walk away…pretend you're still good at something else. Take up gardening instead."
There was a few things outside the expo entrance, such as the Ubisoft caravan thing, where to be honest at the time, the only thing to play that was of any interest what so ever was Prince of Persia, something my good friend James on Eggmen.co.uk is a firm fan of, but the time, I had the overwhelming sense of: Right, done that, let's move on.
But there is one picture from the gaming expo I have to post: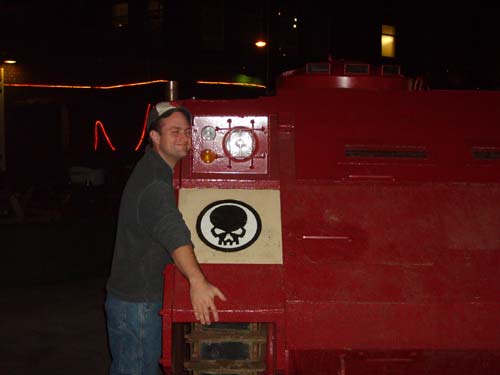 I had promised oh so long ago to post this picture up as it showed a real life size of tank from something which I can't remember, but it was seeing the look of glee on my comrade's face, it had to be taken for record.
There was a period of non-stop working which followed, of which I cannot remember for love or money what the hell happened. I did remark at the time this turn of events left thousands of people wondering what else was to do after Russel Brand and Mr Woss left naughty answer machine messages. Then I saw who they were talking about and well….when a girl works for a troops called demon sluts or whatever the hell it was at the time, you kind of think: Fair enough. Carry on, I'll go put the kettle on.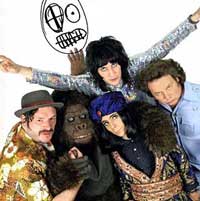 The Mighty Boosh were on in Birmingham, who were on top form as it went, and because they were at the NIA, which as we all know is next to the nexus known as "Broad Street", the place where sexy people dance, drink and then stick things in various places are known to be, a little road trip was executed where the fear of dancing on one's own like a retarded monkey attached to a live 200v battery was left aside.
A disturbing revelation was had when ladies of the evening chose my company over that of fitter men because I had hair and didn't look like I would chase after cars. The first time looking like an out patient came in handy. Dear god I hope there are more otherwise I'll cry the tears of jellybeans….
Added to that I recall that entire weekend was also left worrying about various Windows Clusters at work as they had gone belly up and everyone was getting threatened with various lumps of cheese or something to make it all better. Even had gone in after arriving back in London to work for an additional few hours, which just shows one of three things:
1) How much I loved the work
2) I was in much fear for my job due to the finger wagging which had taken place.
3) (And I suspect this is the real reason) I really was that sad and had nothing better to do.
Now a small worthwhile note while we dilly dilly in the past was the meeting with Jamie Bamber, the man who played Lee Adama in the recent revamp of Battlestar Galatica. He was shooting Law and Order: London with Bradley Walsh by Holborn Tube Station of all places, and after standing there like an idiot for 10 seconds, we started having a nice chat. All I can say is, the man is very friendly and after having watched a few episodes of the series on ITV, let's say he hasn't disappointed.
November was also the month I had discovered the evil that is Twitter, which even to this day I still use as a way of getting out of writing more meaningful blog entries. Mind you, there are some interesting people on there like the few writers I discovered thanks to the guys over at Gamers with Jobs and to them I say this: Hello.
Let's see, Left 4 Dead came out and it was good. To this day though, I still haven't played it online… and I really can't remember anything else from November as it goes. Seriously, once again I think it was the period where the writing was suffering greatly from lack of updates and I think the inclanation to create worthwhile material had been buried along with my sense of smell. Maybe they will uncover who buried them in an episode of Law and Order: UK?
So there we are. A bit more of November 2008, now edited with funky pictures to make it look more interesting than it actually was. Night ya'll!