We've tasted Matt's Mum's Flaps (Edited)
Hello fact fans, and other people who like things, the space adventurer is back in da house!!
Oh what a night indeed, I will report on mr v festival in a mo but first the headlines:
BONG
It was my leaving doo last night in the place called Telford with loads of workmates, and random people turning up willy nilly, hello to you Georgina and Denise!! My man, Mr Chris Hancock was also on board for a good night out, we started out after work, i failed to bring something to wear on the night so bought some shirt from next and proceeded to look sexy and dashing (It's my blog I can say complete bulls**t if i want to!!)
We had a hell of a good time out all of us, and I must give a special mention to Sara's sister, Natalie who was an fantastic, interesting, different and attractive woman who has done very well despite it seems pretty sad affairs that had taken place earlier. We got on very well it seems, we all (people at work + Natalie) met for lunch today and well it was alright again but who knows. I may have frightened her by now.
BONG
This weekend will see me out in shrewsbury most of time with Steve and Matt, basically dossing about on the town, playing games at a lan party, bit of barbique on the go, and drinking far too much. Excellent!! On a rather sad note, this did mean that I miss out on seeing my good buddy and pal, mr Glyn, who i completly forgot about seeing this weekend and i am rather annoyed about that, however buddy I will ring you sat night, so at least i am there in voice alone!
V FESTIVAL Lowdown
And of course now to the main part of the blog which i have threatned so much to talk about: The V festival itself. Of course i suppose i knew it was going be bizzare, when the coach stopped in the huge amount of traffic, almost everyone ran out the coach to relieve themselves or smoke, and then the traffic started again, the coach leaving without them, and I went to the back to watch them run after the coach, waving at them!! BWAHAHAHA!
I got there about 9, after steve met me in the blue campsite, which was a) huge and b) a sea of tents already, which meant finding your own could be a nightmare. Luckly Matt was kind enough to pitch the tent for me earlier on, so all was well, and that was when i met some of the people from Guildford, Gareth, kate, Mr oliver, Rich and others. I also met Matt's brother, John for the first time which was a real honour as he was a complete hoot, we had a great time talking complete bo**ocks! We wandered around the palce the first night having a look at the fun fair etc, found a sex shop which was nice, Millets where I aquired extra tent pegs, and danced like flids in the JJB Arena, as shown below in the V FEST Pics post. We watched Dodgeball afterward on the big screen in the JJB, and then I proceeded to annoy various women in tents, of which John came and joined in too!! Quality!
Saturday, after 4 hours kip, we went forth, had brekky, sorted out who we were going to see, I met a very attractive red head lady whose name escapes me but still never mind and then trundled down to the arenas, of course we stood like plebs waiting to go through the huge crowd, where it seems the organisers failed to tell people that campers could walk straight trough instead of waiting. Gits! Anyway the list from saturday I saw was, Lily Allen, "Dandy One Hit Wonder Wahols", Hard-Fi, Sugababes, The beatiful South, who were one of the first bands playing where everyone knew every song they did, and the JJB Arena was bouncing! Groove Armada, Razorlight, though I was gutted that i missed Razorlight singing "In The Morning", but I did get to sing along to "Somewhere Else" so i was happy!! We all got split up on Saturday, which is easy to do at an crowded place. But still was a great chatting to random people, getting rained on, watching people wearing full waterproofs sliding around the mud (see pic)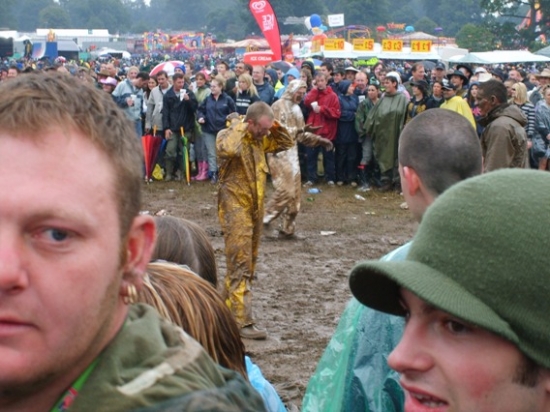 with a huge crowd watching, Throwing inflatable phones around at peoples heads, getting pulled into a mosh pit going at the Hard-fi performance, though hard-Fi do sound way off singing live, dear me! Found the bars closed at 11pm which was crap mind, the beer wasn't cheap either, you had to queue for bleeding tokens and then queue for the actual drinks. If it's one thing we brits can do, it's queue! 🙂
Sunday rolled around and we went for it all over again!! WOO! One of my tent poles was bravely used to hold the england flag we had up in crowds, and I also "aquired" a dolphin with a huge penis from a girl in one of the tents next to us. It was an injoke from friday that the inflatables on one stall, the dophins with the pink handles looked like they had a hard-on. Thus Moby Dick was born!!
Saw the Divine Comedy who were very good, and one of my fave bands so couldn't miss them. Very good live, and may go and see them again later this year. Orson, who again was one of my faves, simply becuase of No tommorow, got the crowd really going without having to do anything really, and most of their songs had some real get-up-and-go in them. Proper Bo.
The others, were Girls Aloud in the JJB again, which was packed with drunk men wanting to leach at them,I was proud to be one of them!! And I must say, GO Nicola!! She be looking mighty fine, boy howdy. And They covered I predict a Riot, which was actually quite good. The male dancers got pelted with bottles etc, and one of them got angry and threw back something into the crowd, to which everyone cheered at, and that made him more angry!! You couldn't ask for better enterainment!! We finshed the evening with Keane (Druggy singer ahoy!!), The Editors, and Finally the band that everyone wanted to see but i had never heard of, Kasibean or whoever. They were fantastic, and everyone was jumping singing allsorts. Utter Brilliance!!
We are all parted ways on the Monday,very tired but very happy. I must say though it was very very expensive the weekend, and I am glad once again I took some food with me. And banning most peoples drink just so they have to spend money, nothing short of greed.
There is a little bit of talk next year of Glastenbury, I hope we can get the tickets but with what, a two hour window to buy, and it seems limits of 2 tickets judging from what was on teh website for 2005, it will be difficult, but not impossible!! COME ON CAMPERS!!!